As 2022 draws to a close, I wanted to look back on the year for AudioUK. The support from our members and partners enables us to do an enormous amount of work on behalf of the independent audio sector, and to help support the growth of the audio industry as a whole. 
I'd like to thank the AudioUK Board for their time and expertise; Peter Gallagher for his work with the Out of London group; and the excellent AudioUK team. 
Our Business Affairs & Legal partnership with Mint & Co continued to work well for members – with the legal contract templates and discounted advice accessed by many. We also launched a new Partnerships contract template which enables members to form partnerships with other businesses. 
We launched a new partnership with WeDoHR, which gives members access to ten of the most usual HR policies needed for businesses, including Data Protection, Business Continuity, Health & Safety. A reminder that all details of member benefits and all templates are in the members section on the website. If you are not a member but would like to be, you can find out more here: https://www.audiouk.org.uk/join-us/
We also launched new Sustainability Guidelines for audio production businesses.  
Events wise, this year has been a busy one for AudioUK. We took part in the very first Podcast Show in May, our first big event since the start of the pandemic, where we did two panels, one of which focused on How Not To Set Up a Production Business. We're back at the Podcast Show in 2023 and look forward to seeing some of you there again. We also appeared at the British Podcast Awards GROW event, and the Radio Academy Festival. We offered discounted tickets for members to events such as the Podcast Show, GROW and Radio TechCon. 
We put on the Audio Production Awards at the BFI, our most successful awards yet. Congratulations again to all of our winners, and great to see so many of you there. We were thrilled to partner with platforms such as our lead sponsor Audible, and Amazon Music & Wondery on the Pay What You Can Scheme. Building relationships and partnerships within the audio industry is a key part of what we do.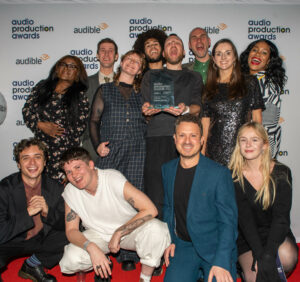 Production Company of the Year – Reduced Listening
Within our policy work, we continued to put the case for a range of measures to help grow our sector – summed up in my recent Westminster Media Forum speech, focusing on Strategic Policy Making, Investment and Partnerships. We are continuing to make the case for an audio production tax relief, to attract overseas investment, as well as lobbying for the inclusion of audio on the Creative Industries Council. We meet regularly with DCMS, Ofcom and Parliamentarians.
The Audio Content Fund evaluation will appear in the New Year and will, we believe, be positive. We are looking to secure the future for the Fund, which is co-owned by AudioUK and Radiocentre.
We are also continuing to discuss with Government the possibility of renewed funding for our Audiotrain programme, as well as discussing with others the idea of future partnerships. Audiotrain has continued to work to support the industry with training, this year covering topics such as Reaper, Creative Sustainability, Contracts & Clearance and many more. In 2023, we launch lunchtime sessions, which take place the first Wednesday of every month, and are free to AudioUK members and their staff, £10 or pay what you can for non members. We are delighted that Steve Carsey has joined us as the Chair of Audiotrain. 
The BBC continues to be an important client for many of our members, and we continue to work on behalf of those members with the BBC. We have made good progress on the Terms of Trade negotiations, which we hope to conclude in 2023. We continue to bring issues to the BBC on behalf of members, and have been successful in getting deadlines extended for a number of commissioning rounds this year. 
We publicly made the case for a better level of Drama and Comedy commissioning from the BBC, having seen drops, and, as we await the outcome of the BBC's Speech Review, we have made the case for 100% competition for non-news programmes, should the BBC's speech audio production move to BBC Studios. 
All of the above is just some of what we have done this year. We thank you once again for your support, and we look forward to doing more work on behalf of our members and the industry in 2023. 
Best wishes, Chloe.