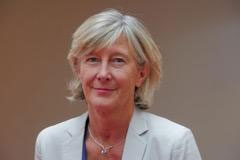 Caroline Elliot and the Audiotrain Career Development Scheme

"My session with Caroline helped to turn my career around. She helped me to recognise my skills and to have greater confidence in my CV. Within two weeks I had jumped from making 3 minute packages to having my first 25 minute documentary commissioned. The session gave me a wealth of ideas which I am steadily working through."
The Audiotrain Career Development Scheme is there to support you whether you are at the start of your career, or you are little bit stuck and don't know where to go next or if you have had years of experience but you want to think through your own personal development.
You can review your cv, increase your chances of promotion, improve your motivation and job satisfaction.
Specialist media training company Quattrain is offering one hour 'one to one' sessions that will focus on your requirements, have as many or as few as you like – each session via Zoom is just £65 and in person face to face £70. The sessions in person depend on location. Caroline Elliot is an experienced business coach with a background in broadcasting, a range of contacts across the industry and an extensive knowledge of the media.
It's time to invest in you, whether you are a freelancer or an employee of an AudioUK company!
To find out more information please contact caroline.elliot@me.com