Listen Entertainment, Production Company of the Year
The Audio Production Awards, sponsored by Audible, were held at a gala evening on Wednesday 24 November at the BFI on London's South Bank. Podcast and radio stars Jordan North & Vick Hope were the hosts.
The APAs, organised by AudioUK, celebrate podcast, radio and audiobook production skills. There are 21 categories in total spanning audiobooks, podcasting and radio.
This year's winners included Ade Oladipo, who won an award for Best New Voice for his work at talkSPORT, including the Audio Content Fund-financed 'Kick-off: Added Time'.
The Grassroots award, sponsored by The Podcasting, Seriously Awards Fund, was won by We are VOICES, a British Red Cross/VOICES network initiative which involved refugees and asylum seekers learning production skills to make podcasts building understanding and empathy through stories of lived experience.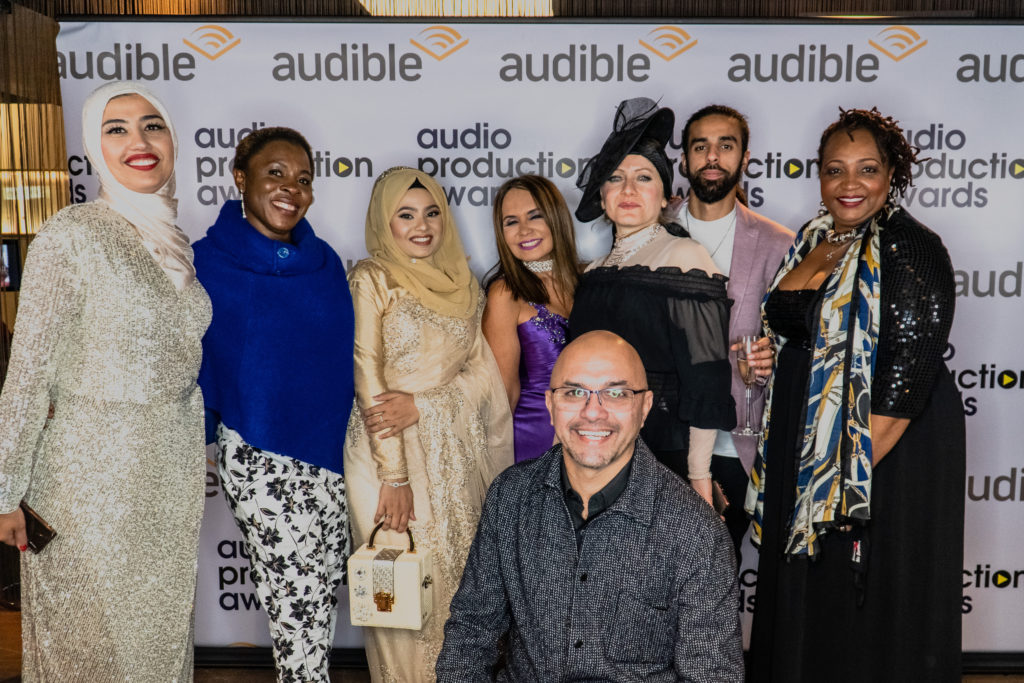 We are VOICES
Lady Unchained won Best Host – Speech Audio for her work with Folded Wing and Prison Radio Association.
Annie Mac won the special AudioUK Award for representing the full 360 degrees of audio – podcasts, radio, and now an audiobook, and for being a huge supporter of women and new talent in the industry.
For audiobooks, actor Olivia Coleman won Gold for Best Narrator for her work with Harper Collins.
Made in Manchester's Ricky Wilson won Gold for Best Music Host and another win for MIM came with Ashley Byrne taking the Silver award for Best Music Producer.
Ben Walker won Best Drama Producer for his work with new company Storyglass.
The coveted Production Company of the Year Award was won by Listen Entertainment.
Kellie While, Chair of AudioUK, said:
"It's been fantastic to have everyone back together in one place to celebrate our wonderful industry- this year's nominees and winners can all be so proud of their work, produced to such a high standard in times which are still difficult for many. We hope these awards will inspire the next generation of production talent to seek recognition and we hope to see them here next year, up on the stage where they belong."
Audio Production Awards
Winners 2021
Best Arts Producer   
GOLD – Michael Umney – Novel
SILVER – Leonie Thomas – Whistledown Productions
BRONZE – Ben Walker – Storyglass in association with English Touring Theatre
Nominees
Caroline Thornham – Novel
Geoff Bird – Freelance
Sarah Jane Murray – Storyglass
Best News Producer
GOLD – Rachel Stonehouse – BBC Newsbeat
SILVER – Elizabeth Cassin – The Guardian
BRONZE – Robert Nicholson – Whistledown Productions
Nominees
Asya Fouks – The Times and The Sunday Times
James Shield – The Times and The Sunday Times
Courtney Yusuf – The Guardian
Best Factual Producer *Sponsored by Audio Content Fund*      
GOLD – Geoff Bird – Freelance
SILVER – Will Roe – Wireless Studios
BRONZE – Joe Kent – BBC Long Form Audio
Nominees
Sean Allsop – Audio Always
Martin Austwick – Freelance
Emma Barnaby – Whistledown Productions
Best Drama Producer           
GOLD – Ben Walker – Storyglass
SILVER – Rosalind Ayres – Jarvis & Ayres Productions
BRONZE – Nicolas Jackson – Afonica
Nominees
Dirk Maggs – Audible Studios
Emma Haigh – Big Finish Productions
Jacob Roberts-Mensah – Our Day
Best New Voice         
GOLD – Ade Oladipo – talkSPORT
SILVER – Zakia Sewell – Falling Tree Productions
BRONZE – Liza Ward – Whistledown Productions
Nominees
Josie Bevan – Falling Tree Productions
Jack Blanchard – POLITICO Europe / Whistledown Productions
Dom Stephens – Freelance
Grassroots Production Award *Sponsored by The Podcasting, Seriously Awards Fund*        
GOLD – We Are VOICES – British Red Cross/VOICES Network
SILVER – Lucy Evans – Fierce Green Productions
BRONZE – Multitrack
Nominees
Miran Hadžić – Miran Hadžić Productions
The Last Bohemians
Best Sports Producer *Sponsored by In:Quality* 
GOLD – Chris Browning – Formula 1
SILVER – Tayo Popoola – Freelance
BRONZE – Olly Clink – talkSPORT
Nominees
Steve Hankey – Whistledown Productions
Ben Mundy – BBC Newsbeat
Andrew Spence – Unedited
Best Ensemble Cast  
GOLD – Elis James & John Robins – Audio Always
SILVER – Nikita & Islah – TBI Media
BRONZE – Zeze Millz & David 'Sideman' Whitely – Amazon Music
Nominees
Kat Harbourne & Jenny Eells – BBC Radio Sheffield
Kurupt FM: MC Grindah, DJ Beats, Steves and Chabuddy G – Audible
Sofa Cinema Club: Jack P Shepherd, Colson Smith and Ben Price – Audio Always
Best New Podcast Producer *Sponsored by Acast*
GOLD – Olivia Swift – Reform Radio
SILVER – Victor Lee – The Lunar Company
BRONZE – Anna Staufenberg – Crowd Network
Nominees
Jessica Beck – Freelance
Meera Kumar – Freelance
Weyland McKenzie-Witter – Freelance
Best Sound Design Producer           
GOLD – The Skewer – Unusual Productions
SILVER – Steve Bond – Freelance
BRONZE – Martin Austwick – Freelance
Nominees
Nicholas Alexander – Novel
Emma Barnaby – Whistledown Productions
Phil Smith – Falling Tree Productions / Freelance
Best Entertainment Producer *Sponsored by Outset Studio*
GOLD – Lance Dann – Rezilience Ltd
SILVER – Natalia Rodriguez – Radio Wolfgang
BRONZE – Liam Conroy – BBC Radio 1
Nominees
Geoff Jein – TBI Media
Selina Ream – Somethin' Else
Will Wilkin – BBC Radio 1
Best Station Sound Producer          
GOLD – Chris Nicoll – WIZZFX
SILVER – Ali Rezakhani – BBC Sounds
BRONZE – Rob Green – Audio Always
Nominees
Mark Jeeves – Scala Radio
Sam Parker – WIZZFX
Adam Venton – Little Monster Media
Best Narrator            
GOLD – Olivia Colman – HarperCollins UK
SILVER – David Haig – Pier Productions Ltd
BRONZE – Colleen Prendergast – Almost Tangible
Nominees
David Bower – Penguin Random House
Carl Prekopp – Almost Tangible
Andy Serkis – HarperCollins Audio
Best Audiobook Producer   
GOLD – Dirk Maggs – Audible Studios
SILVER – Richard Hughes – Anyway Audio
BRONZE – Caroline Raphael – Freelance
Nominees
Lisa Hollinshead – Audiobook Productions
Rosemary O'Dowd – RNIB / Freelance
Tanya Hougham – HarperCollins UK
Gethin Thomas Award for Best Comedy Producer           
GOLD – Benbrick – Novel
SILVER – Lance Dann – Rezilience Ltd
BRONZE – Jon Holmes – Unusual
Nominees
Kurt Brookes – Made in Manchester
Andy Cartwright – Soundscape Productions
Best New Radio Producer *Sponsored by Cleanfeed*
GOLD – Hunter Charlton – Burning Bright Audio
SILVER – Rosie Merotra – Somethin' Else
BRONZE – Eleanor Biggs – Novel
Nominees
Michael Dale – Somethin' Else
Bradley Duggan – Listen
Sami El-Enany – Falling Tree Productions
Best Host – Speech Audio *Sponsored by Outset Studio*
GOLD – Lady Unchained – Folded Wing / Prison Radio Association
SILVER – Elinor Hamilton – Tadah Media
BRONZE – Danny Robins – Bafflegab Productions
Nominees
Elis James & John Robins – Audio Always
Prof. Alice Roberts – Made in Manchester
Ian Wright – Somethin' Else
Best Host – Music Audio       
GOLD – Ricky Wilson – Made in Manchester
SILVER – Vick Hope – BBC Audio
BRONZE – Miranda Sawyer – Freelance
Nominees
Dermot O'Leary – Ora Et Labora
GuyB – Great Music Stories Radio
Jerelle Forbes – Prison Radio Association
Best Music Producer            
GOLD – Jack Howson – Reduced Listening
SILVER – Ashley Byrne – Made in Manchester
BRONZE – Steven Rajam – Overcoat Media
Nominees
Geoff Bird – Freelance
Jesse Howard – Somethin' Else
Natalie Steed – Folk on Foot
Life in COVID-19 Award       
GOLD – Judith Dimant & Julian Wilkinson – Wayward Productions
SILVER – Justin Dealey – BBC Three Counties Radio
BRONZE – Victoria Ferran & Kim Normanton – Just Radio Ltd
Nominees
2000 AD Dramas – Penguin Random House
Ivor Manley & Holly Aquilina – Radio Wolfgang
Sue Nelson & Luke Hastings – Boffin Media / BBC OS
Production Company of the Year   
GOLD – Listen Entertainment
SILVER – Made in Manchester
BRONZE – Fresh Air Productions
Nominees
Audio Always
Novel
Whistledown Productions