Welcome to Audiotrain, the skills, training and mentorship programme to help audio production professionals get to the next level.
Whether it's learning advanced microphone techniques or finding out how to build a business, we aim to help equip you with the skills you need to be a success in the growing audio production sector. 
Creative Careers in Audio 
For young people considering a career in audio, we have created a Careers in Audio Production page, including some example job roles.
Diversity 
Audiotrain is also committed to encouraging diversity in all of its forms and this very much feeds into how we plan our sessions and the contributors we choose. You can find out more about AudioUK and diversity here.

To join our mailing list and get news of new courses, masterclasses and more, please send your email address and name to:
AUDIOTRAIN WEBINARS & TRAINING MODULES
Putting Diversity into Practice in Your Company
19th May – 15 places per workshop
These workshops are about the essentials of good HR practice within companies with Liza Ward, experienced HR Professional (Advanced CIPD) specialising in Diversity and inclusion.
Workshop 1: Recruitment, Interviewing and the First Few Months
10-11am
This session deals with advertising and recruitment. How to stay the right side of the law when advertising vacancies while encouraging a new and diverse workforce; interviewing skills and how to create a welcoming and open culture within your business so that employees and freelancers stay.
Cost: £20 + VAT 
Book here.
There will be a 15 minute break between the two workshops.

Workshop 2: Embedding Diversity and Inclusion
11:15am-12:15pm  
This workshop explains what diversity and inclusion means within your business, and discusses the nine characteristics that make up the legal definintion and shows some case studies of businesses that have crossed the line, it gives examples of how discrimination works and how to embed cultural progression within your company plus showing the benefits when you get it right.
Cost: £20 + VAT
Book here.
You can sign up for one or both of these sessions and on sign up you will be sent joining details.
The Battle of the Remote Recording Apps
26th May, 6-7pm
Remote recording of your guests is currently a given and will still play a major role in content gathering as we enter "new normal". But, from the many out there, what application is the best solution for your editorial requirements, budget and level of technical knowledge?
In this webinar BBC trained engineer and instructor, Iain Betson of AV Resilience, will outline the pros and cons of a selection of these applications, such as Cleanfeed, Zencaster and Riverside, and offer his advice, both as a user and from his 30 plus years experience in professional audio.
This webinar welcomes questions from participants during the presentation. You can also send your questions to Iain in advance to IainBetson.RecApps@gmail.com
On sign up you will be sent a link to join the session.
Cost: Pay what you can: £5 + VAT, £10 + VAT or £15 + VAT. (Audiotrain maintains the low fees through the generosity of its supporters so please give what you can)
Book here.
Trade Secrets of a Sound Designer with award-winning Eloise Whitmore 
10th June, 6-7:15pm
Managing Director of Naked Productions and award-winning sound designer Eloise Whitmore shares her tips on bringing programmes to life with sound design, and how to make an ordinary programme extraordinary.
Eloise has been in the business for over 20 years, working on a range of programmes, but specialising in radio drama and features.
She'll be talking about the art of building soundscapes, the importance of silence, recording and editing techniques, and why there should more women in sound design. And now that she also produces, how that brings a different dimension to her work.
Eloise will be answering your questions so sign up now.
Cost: Pay what you can: £5 + VAT, £10 + VAT, or £15 + VAT. (Audiotrain maintains the low fees through the generosity of its supporters so please give what you can)
Book here.

PREVIOUS AUDIOTRAIN WEBINARS AVAILABLE TO VIEW:
You can find free video recordings of previous Audiotrain webinars here.

Take control of your media career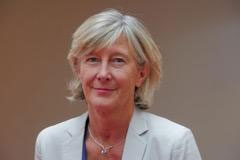 … with Caroline Elliot and the Audiotrain Career Development Scheme 
Specialist media training company Quattrain is offering one hour  'one to one' sessions that will focus on your requirements. The sessions in person depend on location.  Caroline Elliot is an experienced business coach with a background in broadcasting, a range of contacts across the industry and an extensive knowledge of the media. Find out more here.  


Arrange an Audiotrain course
We hope you find something which inspires you and if you are a production company wanting to lay on your own course, then please do get in touch and we will work with you to develop, arrange and market it to our membership and the wider production community.

Audiotrain Aims and Objectives
> To provide affordable quality training in a range of audio skills

> To promote skills sharing across the sector, including radio, podcasting, audiobooks and all forms of audio production

> To encourage new entrants and offer opportunities for networking, collaboration and partnership

> To encourage networking, collaboration and partnership across the sector.

> To promote diversity in audio production

> To be accessible to all those working in the UK Audio sector
Audiotrain is a scheme run by AudioUK Events, which is a trading name of Audio Producers Events Ltd. Registered number 6614180 in England and Wales. Regd office Unit 2, Olympic Court, Boardmans Way, Whitehills Business Park, Blackpool, FY4 5GU. Audiotrain was set up by AudioUK, the trade association for UK audio production companies

Friends of Audiotrain
Thank you to our supporters, who provide backing for us to run the Audiotrain programme. If you would like to support Audiotrain then please contact Caroline.elliot@me.com
Prager Metis – a top international advisory and accounting firm with over 100 partners and principals, more than 600 team members, and 23 offices worldwide.
For further information go to: https://pragermetis.com/uk-homepage/